Convenient Weekend Classes on Saturday & Sunday Only
SHAREGURUKUL, one of the best share market training institute in Delhi, is an earnest endeavor to spread the knowledge of stock market amongst Indian masses. Established under the guidance of stock market professional traders, the venture is truly an educational revolution, an awakening of the age old Gurukul Parampara in these modern times. Dynamically linked to the ground realities of the financial markets, our initiative seeks to disburse knowledge, create awareness, generate social wealth and most importantly, demystify the stock market.
Stock Market Trainers At Sharegurukul
Our team of share market trainers are committed towards the professional success of each student who comes to learn share market trading at Share Gurukul, New Delhi. They ensure personal attention to the learner's problems and concept clarification. It is the collaborative effort of our professional share market trainers backed by decades of experience of Share Gurukul, which makes it an amazing learning experience.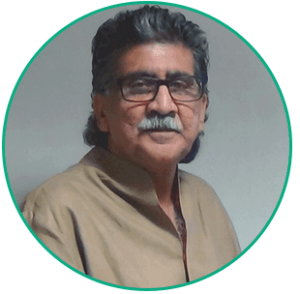 Mr. Ashok Jain - Our Star Stock Market Trainer
He has a trading experience of over 40+ years using technical trends.
He has developed trading desks for various financial institutions making him an outstanding instructor.
He is known as the most premier Technical Analysis trainer in Delhi.
Students under his guidance have not only gained technical analysis knowledge, but from have made huge profits stock market.
Share Gurukul is a place where you can excel your trading skills being experienced or amateur. Practice makes man perfect, so this is also a place where practice gain, learnt many things during your classes. Being a professional technical analyst this programme helps in developing my trading skills and knowledge about new development in market. All thanks to the Ashok Jain Sir. I think he is the best in the field. This academy has helped me a lot in the stepping stone of my life.
"